Custom Camelid Antibody Production Service
We can provide a custom camelid antibody production service in alpaca to generate antibodies for research purposes.
For further information on this service please contact us directly.
Alpaca are members of the camelid family and produce three types of IgG which can be separated based on their affinity for Protein G and Protein A.
Alpaca Serum Fractionation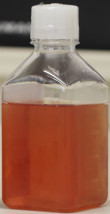 If your project requires large volume of serum we can purify the IgG in bulk.
Alpaca serum can be sterile filtered and packaged under cleanroom conditions.
Bulk (Litre) quantities can be produced.

Please contact for more information.